iHURRIFLASH ® = j'Hurriflashe

You dream About it !!! we offer to make it real !!!
Having the possibility of managing yourself the Original or Tuned status of your vehicle




Hurrichips uses OBD Programming tools since year 2000, that permit us to acquire an unequalled experiment in the domain of the reprogramming over the diagnostic plug. We use six different systems which present each advantage for certain models of cars.

Contrary to Hurriflash which is a SERVICE of update of the calculator thus via installation by our care, iHurriflash is the Version "Do it Yourself" of Hurriflash.
We supply a tool allowing you to make yourself even the possible interventions of setting to Original and/or Tuned without needing our services, except possible support.

Power Increase : from 10 to 15 % on normal aspirated
and from 20 - 38 % Turbo/Turbo D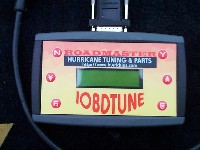 <!a href="typspi.htm" alt="programmables avec systeme spi"><!img src="hurriflash1.jpg" width="213" height="160">
Instead of replacing the chip in the ECU or installing an additional boxe you Stay Master of your vehicle, because you can reprogram it yourself over the diagnostic plug of the vehicle !
So the data that was imported to the ECU before over a physical way (chip) is transferred to the ECU simply by digital programming over the diagnostic plug from the vehicle.
That means for you :
Possibility to desactivate the Tuning before selling the car or Dealer/Expert visit.
Possible to Activate the Tuning after Dealer/car Expert visit.
No presence of a additionnal box under the hood,
we use simply the electronics provided by the car manufactor,
Ideal for the customers who have vehicles in hiring or in leasing, anxious to be able to profit in an optimal way of the vehicle, they now are able to restore it with Original data at the end of the contract.
No physicaly intrusion in the original ECU,
No soldering on the original chip,
No cutting or soldering to the wiring of the car,
No risk of soldering dammage,
No connecting problems,
No physical fitting and so no traces of assembly,
This solution Combines the avantage of the precision of Chiptuning to the facility of return back to original from the Additionnal box.

The process is completely invisible - A good improve in power, and back to orginal is also possible without traces.

We offer this innovating way of tuning at the best conditions on the actual market.
Alfa - Audi - BMW - Citroen - Fiat - Ford - Lancia - Mercedes Benz - Mini - Mitsubishi- Nissan - Opel - Renault - Rover/MG/Land - Saab - Seat - Skoda - Smart - Toyota - VW
This list of vehicles increase every week.
Ask for your Car ! It's possible that your car can already been tuned with iHurriFlash !
Make confidence with the leader in programming OBD, and pioneer of the provision of the solution of autonomous programming!
More information : info@hurrichip.com
Or : hurrichip@wanadoo.fr